Abdominal Band
#0394A5
Regular price
$108.00
/
---
SILVER WAVE ABDOMINAL BAND est une bande élastique abdominale souple en tissu  tridimensionnelles. Excellent soutien pour le dos, dans la région lombaire, elle modèle les hanches et l'abdomen. Le tissu confortable, léger et transpirant assure un confort parfait comme une deuxième peau et imperceptible sous les vêtements. Le micromassage actif du tissu, laisse de légers sillons sur la peau, ce qui dénote son efficacité drainante, qui disparaissent après quelques heures. Très tolérable, elle peut être portée pendant toute la journée, grâce aussi au fil bactériostatique aux ions d'argent spécial qui empêche la prolifération bactérienne et maintient l'équilibre biologique de la peau.
HOW TO IDENTIFY THE RIGHT SIZE for Silver Wave Tights and Prevention Tights
To choose the most appropriate size, we recommend that you refer to the table below where the different sizes are defined according to the ratio between height in centimeters (HEIGHT CM) and weight in kilograms (WEIGHT KG).
For example, for a person 163 cm high who weighs 60 kg, we will act as follows:
we find the corresponding height on the column to the left of the table (HEIGHT CM). In this case, 163 cm will correspond to the height between 160 and 165 cm;
we find the corresponding weight in Kg on the line at the top of the table (WEIGHT KG). In this case, we will consider the box which reaches up to 60 Kg;
the intersection between the column corresponding to the weight and the line corresponding to the height will give the recommended size. In this case, the size is 2 or M (medium).
HOW TO CHOOSE THE RIGHT SIZE FOR Knee-highs
For optimal knee function, it is necessary to measure the limb correctly.
MEASURES TO BE TAKEN:
Ankle circumference (cB), where the ankle is thinnest. This point will be the place of maximum pressure;
Circumference of the point below the knee (cD);
Shoe sizes.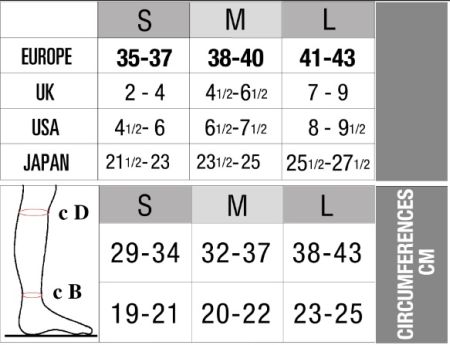 Compression stockings are considered underwear and therefore cannot be exchanged. So take the time to choose the right size according to the different tables. If you are in doubt, because you are in the middle of two sizes, it is better to take the larger of the two.