TRILOGY 70 LACE
066170
Regular price
$59.00
/
---
Discover the ultimate solution for relieving your heavy legs, without sacrificing your style. Our preventative grade compression stockings are comfortable and stylish. Wearing preventative compression stockings is crucial to avoiding vein problems and maintaining the health of your legs. The elastic at the waist does not tighten or mark. An original way to take care of the health of your legs and always be in tune with fashion trends. With antimicrobial treatment. In addition, they are resistant and durable.
HOW TO IDENTIFY THE RIGHT SIZE for Silver Wave tights and prevention tights
To choose the most appropriate size, we recommend referring to the table below where the different sizes are defined according to the ratio between height in centimeters (HEIGHT CM) and weight in kilograms (WEIGHT KG).
For example, for a person 163 cm tall who weighs 60 kg, we would act as follows:
we find the corresponding height on the column to the left of the table (HEIGHT CM). In this case, 163 cm will correspond to the height between 160 and 165 cm;
we locate the corresponding weight in Kg on the line at the top of the table (WEIGHT KG). In this case we will consider the box that reaches up to 60 Kg;
the intersection between the column corresponding to the weight and the line corresponding to the height will give the recommended size. In this case, the size is 2 or M (medium).
HOW TO CHOOSE THE RIGHT SIZE FOR Knee Highs
For optimal function of the mid-stocking, it is necessary to measure the member correctly.
MEASURES TO BE CARRIED OUT:
Ankle circumference (cB), where the ankle is thinnest. This point will be the place of maximum pressure;
Circumference of the point below the knee (cD);
Shoe sizes.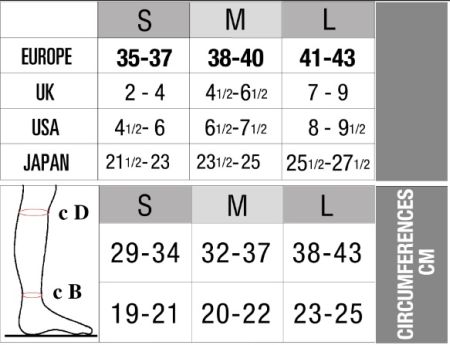 Compression stockings are considered underwear, therefore cannot be exchanged. So take the time to choose the right size according to the different tables. If you are hesitant, because you are in the middle of two sizes, it is better to take the larger of the two.