Leg warmer
Regular price
$44.00
/
---
Leg warmer, from ankle to knee, graduated compression 12/15 mmHg, in micro-massaging fabric in three-dimensional waves which promotes the elimination of perspiration, keeps the skin dry. The active micro-massage of the tissue combined with the graduated compression activates blood circulation, reduces muscle tension and optimizes performance. Made of bacteriostatic wire with silver ions The ultra-elastic edge ensures maximum hold without tightening. It is indicated as a muscular support and is particularly suitable in the practice of all sports activities. This leg warmer reduces cramps and prevents the formation of lactic acid.
Composition:

 

82% POLYAMIDE 18% ELASTANE

Sizes:

 

S - M - L - XL

 
HOW TO IDENTIFY THE RIGHT SIZE for Silver Wave Tights and Prevention Tights
To choose the most appropriate size, we recommend that you refer to the table below where the different sizes are defined according to the ratio between height in centimeters (HEIGHT CM) and weight in kilograms (WEIGHT KG).
For example, for a person 163 cm high who weighs 60 kg, we will act as follows:
we find the corresponding height on the column to the left of the table (HEIGHT CM). In this case, 163 cm will correspond to the height between 160 and 165 cm;
we find the corresponding weight in Kg on the line at the top of the table (WEIGHT KG). In this case, we will consider the box which reaches up to 60 Kg;
the intersection between the column corresponding to the weight and the line corresponding to the height will give the recommended size. In this case, the size is 2 or M (medium).
HOW TO CHOOSE THE RIGHT SIZE FOR Knee-highs
For optimal knee function, it is necessary to measure the limb correctly.
MEASURES TO BE TAKEN:
Ankle circumference (cB), where the ankle is thinnest. This point will be the place of maximum pressure;
Circumference of the point below the knee (cD);
Shoe sizes.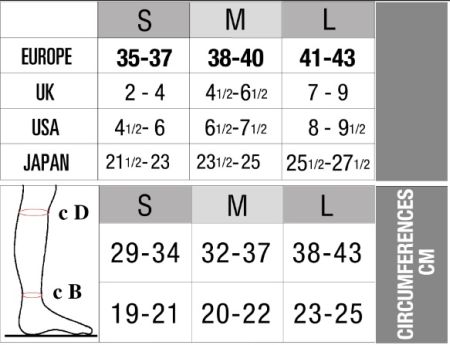 Compression stockings are considered underwear and therefore cannot be exchanged. So take the time to choose the right size according to the different tables. If you are in doubt, because you are in the middle of two sizes, it is better to take the larger of the two.