Corsaro
Regular price
$128.00
/
---
Corsaro briefs are ideal for physical activity indoors and outdoors, flexible and comfortable, they can be worn all day. Made with a special bacteriostatic thread, this thread constantly releases silver ions and provides support. The special patented wave structure of the fabric acts as a delicate and effective micromassage of the skin, reactivates the skin microcirculation for effective treatment of cellulite. 
HOW TO IDENTIFY THE RIGHT SIZE for Silver Wave Tights and Prevention Tights
To choose the most appropriate size, we recommend that you refer to the table below where the different sizes are defined according to the ratio between height in centimeters (HEIGHT CM) and weight in kilograms (WEIGHT KG).
For example, for a person 163 cm high who weighs 60 kg, we will act as follows:
we find the corresponding height on the column to the left of the table (HEIGHT CM). In this case, 163 cm will correspond to the height between 160 and 165 cm;
we find the corresponding weight in Kg on the line at the top of the table (WEIGHT KG). In this case, we will consider the box which reaches up to 60 Kg;
the intersection between the column corresponding to the weight and the line corresponding to the height will give the recommended size. In this case, the size is 2 or M (medium).
HOW TO CHOOSE THE RIGHT SIZE FOR Knee-highs
For optimal knee function, it is necessary to measure the limb correctly.
MEASURES TO BE TAKEN:
Ankle circumference (cB), where the ankle is thinnest. This point will be the place of maximum pressure;
Circumference of the point below the knee (cD);
Shoe sizes.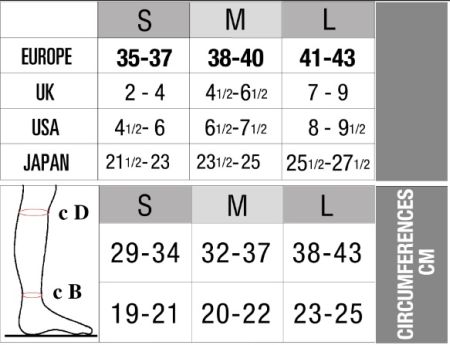 Compression stockings are considered underwear and therefore cannot be exchanged. So take the time to choose the right size according to the different tables. If you are in doubt, because you are in the middle of two sizes, it is better to take the larger of the two.